Types of Makeup Brushes:
How to Use Different Brushes to Apply Cosmetics
If you want to own a really good set of makeup brushes, you can acquire them one at a time to suit your cosmetic needs, or you can buy them already assorted in a bag or box.
While some cosmetics come with their own brushes, most professional makeup artists and models buy brushes the way artists do: with an eye to quality in manufacture and purpose.
In most cases, you want to buy the best brushes you can afford: they are the tools that will create a flawless makeup look.
READ ALSO :
Simple Unique Nail Trends!
Brighter Smile for a Brighter You
Included (i.e. Free) Makeup Brushes Aren't Great Quality
If you aren't sure how to choose makeup brushes, look at the cheap ones that come along with inexpensive drugstore makeup. They're usually made of plastic, and are usually coarser than they should be, with uneven bristle lengths.
They may come apart even as you use them, scattering occasional bristles throughout your makeup or on your face.
Basically, cheap makeup brushes are like the bolts that come with some assembly kits: the cheapest available products that make it look like you're getting a discount.
Eye Makeup Brush Types that are a Must
Different makeups need different brushes. Mineral makeup actually has speciality brushes that evenly distribute the natural minerals. Eye liner goes on with small, thinner brushes to accommodate thin liquid eyeliner makeup.
Because you're using them at close range and need a steady hand, it helps to buy an eyeliner brush with very thin bristles and a thicker handle, making it easier to grasp and guide the brush.
These tiny brushes are often made of sable.
Using your finger to apply layers of eye shadow is messy and clumsy: get several medium-small brushes for layering on small amounts of shadow. Remember, life doesn't come with an air brush!
Make sure your eye makeup is as perfect as possible by using the right tools to apply it. And if you 're your makeup brushes to the gym or work with you, get a brush bag that can roll into a small enough travel size to fit easily into your tote while protecting your brushes.
READ ALSO :
How to care for your lips
Simple steps will make you relaxed
Concealer Brushes are Less Mess, but Fingers Work Fine too
Concealer brushes are about the same size as eye makeup brushes, and may sometimes be made of sponge instead of natural hair.
If you use a heavier concealer, a sponge brush may be useful for dragging across the stick and smoothing the concealer before applying it.
For liquid concealer such as that by Chanel, use a smaller brush. Concealer brushes do give you a nice even application, keep makeup more bacteria-free and keep your manicure clean.
However, concealer can be put on with a light touch using your ring finger nicely too.
Brushes for Powders, Blush and Bronzer
Blush or bronzer brushes are thicker, with longer bristles and flat tops just right for putting color where you want it. They're for applying and blending larger amounts of powder makeup, and for creating a contour.
Powder brushes, also called kabuki brushes, are ideal for brushing on either ordinary face powder or ultrafine mineral makeup, Like Bare Essentials.
If you can only have one brush in your makeup bag, make it a fluffy powder brush, because there's nothing better than a brush that blends the perfect finish.
How to Spot a Good Quality Makeup Brush
High quality, natural hair brushes are made from animal hair, which is graded by length, evenness of cut and fineness.
Some of the best powder brushes are made from badger hair: sable is often used for smaller, finer brushes because of its silky texture. Squirrel hair is quite expensive, and may even be mixed with cheaper but also very fine pony hair.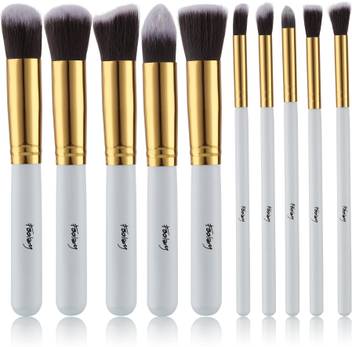 Handmade goat hair brushes are also popular, being nearly as fine as squirrel.
If you're looking for quality, check out designer brushes and kits from Kevyn Aucoin, Bobbi Brown or Giorgio Armani.
If the idea of using animal hair for brushes troubles you, feel free to buy synthetic brushes: new synthetics such as Taklon make perfectly fine brushes as well.
If you're doing other people's makeup, you may be looking for disposable makeup brushes.
You will probably be able to get away with buying less expensive ones, since you'll be throwing them after one use.
Get a refillable holder for keeping the brushes while you work, so they won't get mixed up as you use them.