Eye Makeup Tips in Summer
Eye Makeup Tips in Summer 2020 !!
However you look at it, cosmetics probably play a large part of your summer beauty routine. Simple tricks often make the largest impact in how you look and how you perceive yourself.
Fine-tune your beauty regimen and discover which makeup tips will flatter your skin tone and bring out your best features.
Check your results in bright lights or daylight to make sure your colors are blended and look natural.
Eye Makeup Tips
Foundation
Keep your foundation thin in warmer weather. Your skin tone will change, so don't be afraid to buy a bottle of your favorite brand in a darker color and mix it to match your skin. If it is too heavy, add some water or moisturizer to thin it out a little bit.
Eye Shadow
Lighter makeup accentuates a dark tan. The new eye shadows available today give shimmer and glide on smoothly. Combine a lighter creme eye-shadow with light lipstick or lip gloss and you'll have an instant, updated summer look.
For longer lasting makeup, apply pressed powder to your eyelids to soak up any additional oil before you brush on the eye shadow. This will also help "set" the powder and prevent creasing.
Mascara
Today's mascara isn't near as conservative as it was years ago. With brushes, colors and formulas available for just about every situation, your choice today is much easier whether you're a blonde, brunette or redhead.
Summer may be the only time you need waterproof mascara. For exercising or swimming, use the waterproof formula to prevent the dreaded "black eye" syndrome. Even if you don't anticipate the need, keep some on hand for that impromptu invite to the lake or beach.
Lips
Cool mauves, rose and pinks are the summer trend for lips. Fill in sparse lips with a lip liner that matches your lips and go just beyond your lip line to add fullness. For a daring look, try classic red, which never goes out of style.
Pucker up your lips with a lip plumper which will increase collagen production and deliver instant moisture. Designed to make your lips larger and decrease fine lines and wrinkles, this is a win-win situation. Apply some lip gloss to add volume and dimension and your lips will never look so good!
Bronzing Powder Tips
Kudos to whoever invented bronzing powder. It's not only a popular spring and summer makeup, it can be used in a variety of ways, any time of the year! Apply it to your face to play up a tan, or just to fake one. Strategically place it along the sides of your cheekbones to slim your face, or on each side of your nose to make it appear smaller.
Dab some on your shoulders for a shimmer effect when wearing a strapless dress. Use your imagination and you'll soon find that bronzing powder it a must-have summertime make-up!
How to Apply Mascara
Depending on which formula you choose, mascara gives you the ability thicken and lengthen your eyelashes, thus enhancing the overall appearance of your eyes. Different formulas include those that can thicken, lengthen and condition your eyelashes. Waterproof mascara will repel water and is superb for swimming, sports and emotional events.
Colors
The hottest selling mascara colors are the basics. Brown, black and brownish-black are natural colors that are appropriate for both work and social events. Mascara also comes in trendy colors such as blue, navy blue, aqua, and purple. Clear mascara is the latest fad, which gives eyelashes more volume and shine, but nothing in color.
The ideal color for fair-skin blondes is usually brown or brownish/black. Anything darker can appear too harsh will not look natural. Brunettes are better off opting for darker colors such as brownish/black or black. Save the trendy shades for a fun night out on the town, not for the work environment.
Application
So how do you apply mascara? It's best to start with clean eyelashes. Prepare them in advance by using an eyelash curler as close the to base of your eyelashes as possible on your upper lashes.
Begin applying the mascara on the upper lashes, at the base. Whether you choose to hold the want horizontally or vertically is preference but it also may depend on the formula. Wiggle the wand as you go to apply evenly throughout.
A trick for the lower lashes is to take a thin tissue and position it underneath before you apply. This helps you avoid the messy blotches you may get on your face in the process.
If you choose to apply two layers, let the mascara dry for several minutes before applying the second coat. If you're too quick, you may end up with undesirable clumps and smudges.
If you still have clumps, use a metal eyelash comb to lift and separate. If you don't own a metal comb, you can take an old wand and clean it off completely and use it for this purpose only. For super-lustrous lashes, apply mascara to the top of the lashes as well as the underneath.
Mascara can dry out rather quickly. Don't pump the wand and make sure you tighten the cap in between layers. To avoid unnecessary infections, never lend out your mascara to others. The shelf life is about three months, which usually is long enough to use it up entirely. If not, discard the old and replace it.
HOW TO APPLY EYE MASCARA
If the eyes are the window to the soul, you'll want yours to look expressive and definitive. There are several different methods for applying eye makeup and you can alter your routine for a custom look that's just for you. We'll show you how.
Before you begin, make sure your eyebrows are properly shaped and groomed. They frame and accent your eyes so you'll want to keep them properly tweezed and trimmed with a natural arch to open up your face.
Applying Eye Shadow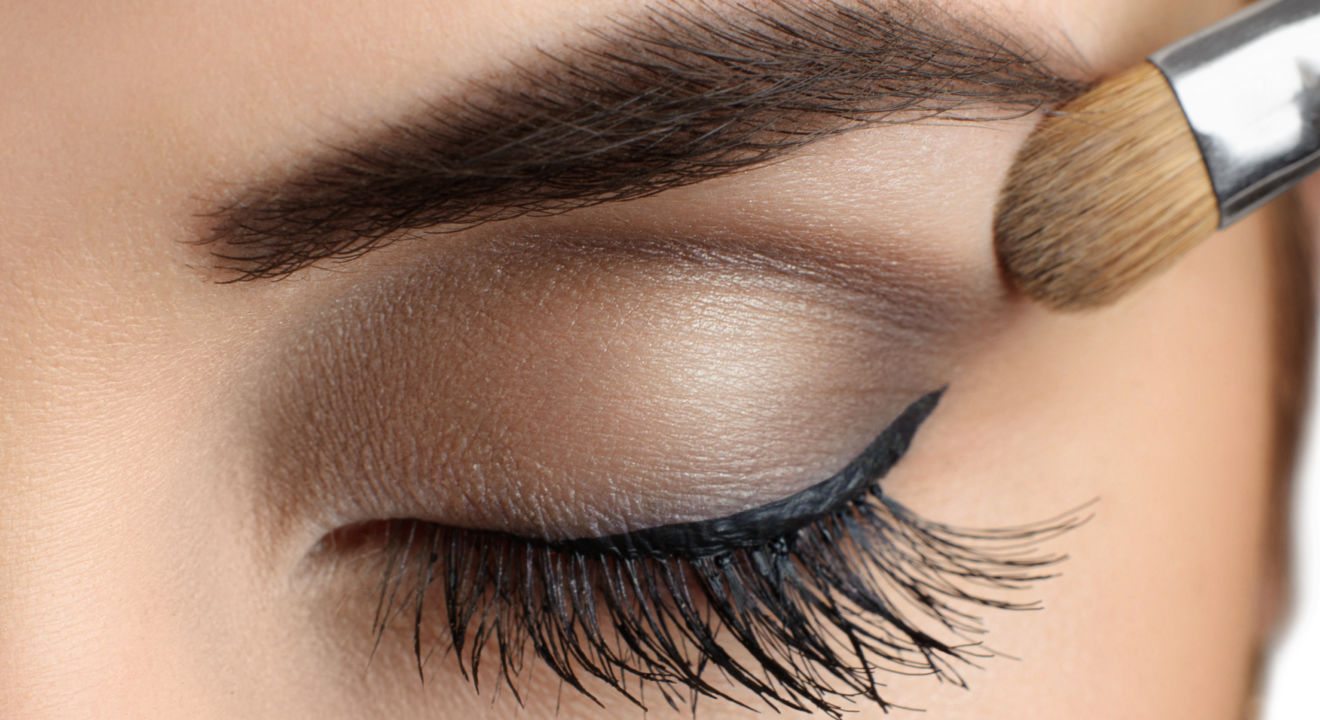 Most eye shadow comes in multi-colored compacts for a reason. Use these colors strategically to enhance your features and draw out the true beauty of your eyes. Your shadow does not have to match your eyes or clothing but if you choose bolder colors, make sure you mix them with some neutral shades for an overall natural look.
1) Apply the lightest or next to lightest shade from the top of your lower lid to just underneath your eyebrow. If you wish, you can apply it to the entire area, from lash line to eyebrows.
2) Apply the medium shade to your eyelid, extending just above the crease.
3) Apply the darkest shade of eye shadow from the center of your eyelid to the outer corners.
4) For extra highlighting, apply the lightest shade or a very light shade with some color just beneath your brow bone to the outer 2/3, and blending outwards.
5) If you wish to use eyeliner, you can use liquid liner or pencil just above the eyelashes on the upper lid or below the lashes on the lower lid. I prefer to use a pencil just below the lower lashes because it looks more natural.
6) Blend in carefully with a tissue or dry sponge and check in bright light.
Mascara
Prepare your lashes by using an eyelash curler on your upper lashes. Apply mascara to the upper lashes first, wiggling the wand as you go. Apply a lighter coat of mascara to the lower lashes to help them look more natural.
Brown/black mascara is flattering to most women and doesn't look too harsh. For more information, read How to Apply Mascara for some extra tricks to achieve the best results.
How to Remove Eye Makeup
It's important to remove your makeup before bedtime to avoid irritation. There are many methods to take it off, with minimal effort. You can use products that you already have around the house, such as Vaseline, baby oil, witch hazel or cold cream. Pond's has makeup remover cloths that are easy to travel with. To save money, baby wipes work just as well.
Eyebrow Grooming and Tweezing Tips
How your eyebrows are groomed can make a considerable difference in your appearance. Eyebrows help shape your eyes and give you character.
If you have bushy eyebrows, it's important to keep them trimmed and well groomed. Most people need some kind of eyebrow maintenance. Many of these tips work well for women as well as men.
Never shave your eyebrows for a quick fix. You will regret it later when they all start growing back in with straight edges. It will look obvious, and require constant maintenance.
Depilatories are not a good idea to use around the eye area and there's plenty of room for mistakes.
This can irritate your skin and your hairs will also grow back much quicker than waxing or tweezing.
Waxing your eyebrows is best done professionally, however, there are many kits on the market for this purpose. They come with step-by-step instructions to simplify the process.
If you want to do this at home, have a professional do it the first time so you can see how it's done. Be prepared for some temporary discomfort and pain.
Depending on how thick your eyebrows are, sometimes all you need is a small pair of scissors to trim away the stray hairs. Grooming and trimming your brows is best done under a bright lights for accuracy.
First decide what areas need attention and slowly trim your eyebrows in the direction of hair growth. Don't go overboard, if you trim your hairs too short, they will stick out and look silly.
You may want to do this over a few days, after you have a chance to decide if you're on the right track.
Plucking Stray Eyebrow Hairs
Aside from waxing, tweezing is still the most efficient method for removing eyebrow hairs. If you need to pluck your eyebrows, keep a clean pair of tweezers handy for this use only.
Men are tempted to use tweezers for other things, such as cleaning their fingernails.
Don't! This will make them unsanitary and less affective. If you do this, you'll probably need to buy a new pair when the ends don't meet properly to grab the hairs.
Start off with moistened brows. Tweezing after a shower is ideal, but you can soak your brow area with a warm washcloth for several minutes and it will have the same effect. Comb your eyebrows in the direction of their growth and let them fall naturally in place.
After deciding which areas need thinning out, tweeze your eyebrows in the direction of hair growth.
For an even look, start underneath, from the inside, out. Pull them out one by one to avoid mistakes. Be careful, some hairs may not grow back!
Tweeze the center of your eyebrows and look carefully to make sure you don't get them too far apart. You can always go back later and remove additional hairs if you need more space.
Don't pluck away too many hairs from the top of your brow. Target the obvious stray hairs and thin them out a little. Again, start from the center, then outwards.
Correcting Mistakes
Mistakes are bound to happen, even with a steady hand. If you should find yourself with some empty spaces or bald patches, don't fret. Fill in your eyebrows with an eye pencil or eye shadow that closely resembles the color of your hairs. By grooming your brows and blending in the color, they will look more natural.
Eye Makeup Tips to Make Eyes Appear Larger
Chances are if you're like most other women, you've always wanted larger eyes.
While we can't change our genetic make up, the good news is we can create the illusion of larger eyes with eye makeup tricks and tips.
In fact, if you've ever noticed a celebrity photographed without makeup you most likely have noticed how much smaller their eyes look than their photos where they are all dressed up and made over for most red carpet events.
READ ALSO : How to care for your lips | Eye Makeup Tips in Summer
Make Eyes Appear Larger With These Simple Makeup Tips
Curl Your Lashes – One of the easiest secrets to utilizing eye makeup routine to correctly make your eyes look larger is to curl your eyelashes. It's important you curl your lashes BEFORE you apply the mascara! If you forget to do it before applying your dark mascara, be sure to wait until the mascara has dried completely and then go ahead and curl them. If you find throughout the day your lashes aren't as curled as they were in the morning when you first applied your makeup, you can always re-curl them later in the day since your mascara will be very dry by then.
Apply Mascara on Your Bottom Lashes – Many women think they don't need mascara on their bottom eye lashes. However, most makeup experts believe adding mascara to the lower lashes can help to enlarge their appearance. The trick is to know how much to use on those bottom lashes! Start by applying the mascara to the top lashes. Then, with whatever is left on your brush (without redipping it into the mascara formula), apply it to the lower lashes. Hold your brush vertically and sweep it back and forth over the lower lashes to get the right look.
False Lashes for Evening – If you want to go for a dramatic dark night time effect, you may want to try your hand at false lashes. Most celebrities do use false lashes for big events. If you know how to do the lash application properly, they can be beautiful and natural. Many larger department stores can help you learn how to apply lashes at one of their cosmetics and beauty products counters but they are also available at drugstores. Be sure to practice before your big event. You can also remember to use scissors to trim them (before applying them) if they are too long.
Use White Eye Liner in the Right Places – Another technique to use involves the creamy white eye liner pencil. This can help you get a doe-eyed style that will brighten and widen your eye appearance. To get this look, simply line the lower inside of your lids with the creamy white eye pencil. Make sure to use a soft pencil to lessen the irritaion on your lid. You can find great liners from Sephora, Loreal or Estee Lauder. To further brighten your eye area, use this soft color also on the inside corner of both the upper and lower lids.
Apply Highlight Eye Shadow – If you don't like the idea of the white shade of liner, you can also use a platinum highlighter to open up the eye area. Simply apply your shadow as usual and then use the highlighter on small dots along your browbone just below your eyebrow. Blend it in with the shadow in that area, apply it to the inner corners of the eyes and enjoy your new look.
Keep Eye Brows Plucked & Well Shaped – For larger appearing eyes, you must also pay attention to your brows. Be sure you manicure them well. It's a great idea to visit a professional to get your brows waxed, tweezed or threaded. A pro can help you shape them properly. In between pro visits you can maintain them by tweezing. If you have a slight arch to your brows, you will find your eyes look larger.